BACK TO LIST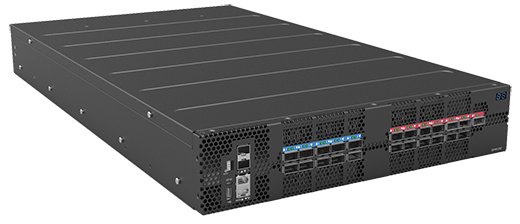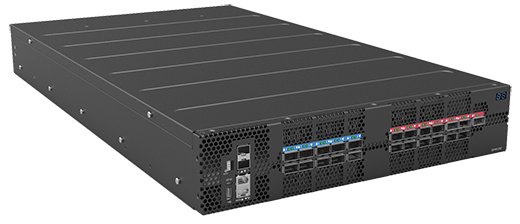 S9700-23D
400G Disaggregated Core and Edge Router
Disaggregated Open Router (DOR)
Distributed Disaggregated Chassis (DDC) "Line Card" white box
10 x 400GE QSFP-DD service ports
13 x 400GE QSFP-DD fabric ports
1 x RJ45 + Micro USB serial console ports
1 x 1GBase-T Ethernet port for Out-of-Band management
1 x USB 2.0 Type-A general purpose port
2 x 10GBase-X SFP+ management ports
OVERVIEW
The UfiSpace S9700-23D is a 10 x 400GE disaggregated core router that evolves the network to a 400GE network, which enables next generation of 5G services and applications. Additionally, it enables the development of open networking services for the core and edge networks. The S9700-23D can be deployed as a standalone device or within a core switching cluster as a "line card" element within the distributed disaggregated chassis.

The S9700-23D disaggregated core router uses the Broadcom J2 chipset, which provides 8GB deep buffering with 2000Mpps packet throughput and 4.8Tbs switching capacity. It includes a knowledge-based processor (or TCAM) to perform up to 16 parallel searches to reach decision speeds of multiple billion decisions per second, which makes it ideal for provider edge applications. As a core router, the S9700-23D enables fault and performance monitoring, non-stop routing support for control and data plane, and comprehensive high-availability networks.

Standalone Router Applications
As a standalone router, the S9700-23D can be deployed at the edge network to enable transport services over a scalable next generation Telecom network. It is also suitable for central office data centers and general network aggregation.

Core Router Applications
When coupled with UfiSpace's fabric switch, the S9700-23D becomes a building block for the distributed disaggregated chassis (DDC). The DDC allows telecoms and service providers to implement a pay-as-you-grow model when scaling core network capacities from 4Tbs up to 192Tbs.

What is a Distributed Disaggregated Chassis (DDC) Routing System?
The UfiSpace DDC routing system opens up the traditional chassis routing system by "Distributing" the line and fabric card components into easy to manage, standalone "Disaggregated" white boxes, each equipped with their own hot swappable fans and power supplies for easy maintenance and servicing. These line and fabric cards are connected together using 400GE cables to for a single "Chassis," capable of horizontal scaling from 4Tbs to 192Tbs. No longer will forklifts be needed for installing the chassis because the DDC is so compact; just 2RU in height and can fit onto a standard 19" data center rack. UfiSpace's DDC is designed for a routing system that is easier to install, manage, and maintain, while meeting all the technical requirements of a carrier-grade core and edge routing system.
FEATURES
10 x 400GE QSFP-DD service ports
13 x 400GE QSFP-DD fabric ports
Service Ports support 4x100GE break-out
1 + 1 hot swappable PSU FRU
3 + 1 hot swappable Fan FRU
Micro USB and RJ45 console port
8GB deep buffering and Intel Broadwell-DE 8 core at 2 GHz
64GB memory DDR4 RDIMM with ECC
SPECIFICATIONS
Physical
Processor
Intel® Broadwell-DE 8 core @ 2.0 GHZ
Memory
2 x 32GB DDR4 RDIMM with ECC support
Storage
2 x M.2 SATA SSD 128GB
ASIC
Broadcom BCM88690
Chassis
2RU, 436 x 762 x 87.6 mm | 17.17" x 30" x 3.45"
Weight: 23.9 kg (52.8 lbs)
FAN Trays
Hot swappable, 3+1 redundant FRU
Environmental
Power supply
Hot swappable, 1+1 redundant FRU
AC input: 200 ~ 240V, 12.5A, 60/50Hz
DC input: -40 ~ -72V, 60 ~ 33A
Typical power: 581 Watts (no transceiver)
Operating Spec.
Operating temperature: 0°C to 45°C (32°F to 113°F)
Operating humidity: 5% to 85% (RH), non-condensing
Altitude: 1,829 mm (6,000 ft.)
Non-Operating Spec.
Storage temperature: –40°C to 70°C (–40°F to 158°F)
Storage humidity: 5% to 95% (RH), non-condensing